Now through November 30, 2020
---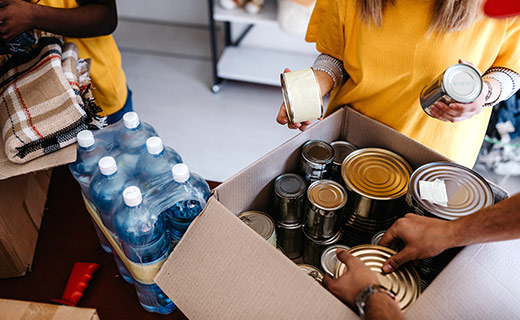 Virtual Food Drive
Help us in supporting our local community food banks from coast-to-coast. We've partnered with South Plains Food Bank to collect monetary donations on their behalf.
Donating is easy: spfb.org/millionmealschallenge
Make sure you share with your family and friends!
Working with our partner properties throughout the country, we're aiming to help serve a million meals to those in need. We thank you for your generosity.

More Information about the South Plains Food Bank
In a normal year, the amount of families facing food insecurity in the South Plains service area is approximately 96,000. In 2020, amidst the pandemic, that number has risen to over 150,000 food insecure families.

On average, South Plains Food Bank volunteers provide over 40,000 hours of donated work each year. In 2019 the South Plains Food Bank had over 65,000 hours donated, and were able to provide more than 8 million meals to local families.
This year, food bank volunteers have decreased by 90%, and the need is only continuing to rise. The food bank staff and limited number of volunteers have gone above and beyond to continue to ensure that the women, men, elderly persons, and children facing food insecurity have somewhere to turn no matter what. Your donation and support of the South Plains Food Bank helps provide necessary resources to families living in our community. Thank you.
See All Participating Properties
South Plains Mall Virtual Kids Club
Now through December 31, 2020
Since it's challenging for little ones to social distance, but we still want to connect members of o...