Lubbock Premiere LUX 16 IMAX
---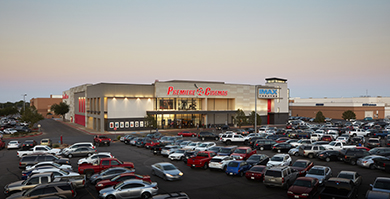 At PREMIERE, We Love Movies. And our goal is to make sure every visit to PREMIERE is fun and exciting for you and your family. Come in, cool off, grab a Coke, relax in a comfortable seat, and let us entertain you PREMIERE style! Use our website as your link to Hollywood, get local show times, and buy your tickets on-line - it's just a few clicks away.
To purchase your advance tickets click here
Show Schedule - Lubbock Premiere LUX 16 IMAX
2D DBOX VENOM PG13
11:40A 2:20P 5:00P 7:40P 10:20P
2D VENOM PG13
10:50A 11:25A 12:15P 1:25P 2:05P 2:50P 4:00P 4:50P 5:30P 6:40P 7:30P 8:10P 9:20P 9:40P 10:05P 10:45P
3D DBOX VENOM PG13
11:10A
3D VENOM PG13
11:10A
A SIMPLE FAVOR R
11:05A 1:50P 4:35P 7:20P 10:05P
A STAR IS BORN R
12:00P 1:10P 2:15P 3:00P 3:40P 4:15P 5:15P 6:10P 6:40P 7:15P 9:15P 10:15P
BAD TIMES AT THE EL ROYAL R
12:55P 4:00P 7:00P 10:10P
CRAZY RICH ASIANS PG13
11:25A 2:10P
DBOX HOUSE WITH A CLOCK I PG
2:20P 4:50P 7:20P 9:50P
FIRST MAN PG13
1:20P 4:25P 7:30P 10:35P
GOSNELL PG13
11:50A 2:10P 4:25P 6:45P 9:10P
HELL FEST R
8:15P 10:30P
HOUSE WITH A CLOCK IN ITS PG
2:20P 4:50P 7:20P 9:50P
IMAX FIRST MAN PG13
12:45P 3:55P 7:00P 10:10P
NIGHT SCHOOL PG13
11:25A 2:00P 4:35P 7:10P 9:45P
PEPPERMINT R
1:10P 7:20P
SMALLFOOT PG
10:50A 11:55A 12:00P 2:20P 4:40P 7:05P 9:30P
THE NUN R
4:55P 9:45P



Photos With Santa + Free Gift
November 10, 2018 through December 24, 2018
Visit Santa for photos and a free gift! Santa will be available for photos and visits at his winter...